Baby Local Giant Millipede (Lodi, CA, USA) (pic heavy)





May 08, 2010



i can pretty much say i for sure have babies now :D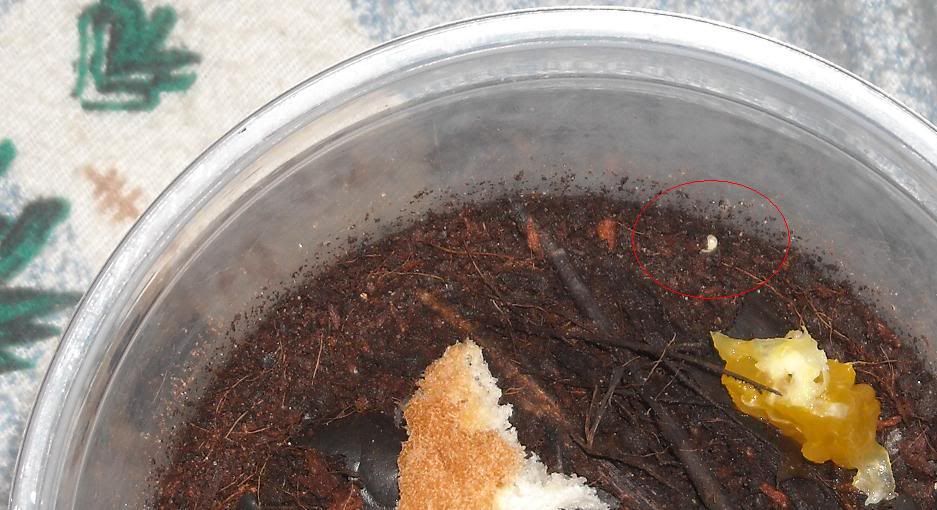 this baby is one of five i can see on the edges of their cup. hopefully there are more in the sub that i can't see. *the parents are 3-3.5" long and local to Lodi, CA and were obtained at one of the GBU Enterprises facilities



p.s. sorry the pics are so bad... my camera's display screen crapped out on me :/ *no more using magnifying glasses to take pics or vid now :/




May 25, 2010


:D :D :D

i have seen at least eight babies in what looks like two different stadia :D


http://i21.photobucket.com/albums...ocal/babies/babiesandadult01b.jpg
http://i21.photobucket.com/albums...ocal/babies/babiesandadult02b.jpg




Jul 21, 2010


i have seen a new max instar :D *they are in 2cm long land, now. *they are definitely more than 1/2" and less than 1" which means 2cmland to me :D *i think these are around 4-5i but am really not sure. *they could conceivably be counted as 3i if they can make a decent size jump from 2-3 and/or the things in the first pics in this thread are like, protonymph/0i kind of things

as you can see they are really starting to color up. in real life, w/o the flash the banding coloration of the adults is definitely starting to manifest :D *that's pretty quick growing, i guess. it is during the summer and i try to always have a bit of something for them to munch on, so i am sure that helps.

i think i am going to split my colony in to 2 or 4 parts. i want to have at least one adult with each new colony cage for as long as possible. *i am pretty sure the biggest babies can support their own gut fauna independently now, but have doubts about the smallest. *i figure as long as they are occasionally boosting their own GF with some from the adults poop they are going to be more hardy. *i can pretty safely say there are about 20 babies now. *this is a guesstimate from how many i can see in visible spots versus how much total area/volume i think they can be hiding in. *i suppose there could be as little as 7-8 or as many as 30+, though

does anyone know if those colorful dots are breathing holes or poison pores or what?




hi res http://i21.photobucket.com/albums.../local/babies/Lodibaby_2cm01b.jpg



hi res http://i21.photobucket.com/albums.../local/babies/Lodibaby_2cm02b.jpg


_________________
SCABIES invader!